Temporal Mechanic
Staff member
Joined

Sep 28, 2008
Messages

12,290
MBTI Type

JINX
Enneagram

5w6
Instinctual Variant

sp/sx
Lot of Halloween baking with people this week...
Apple crisp, & pumpkin sugar cookies made into zombie cats... and their victims.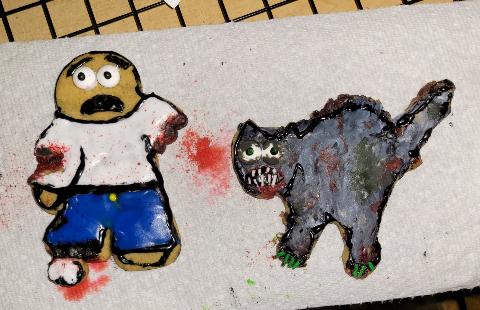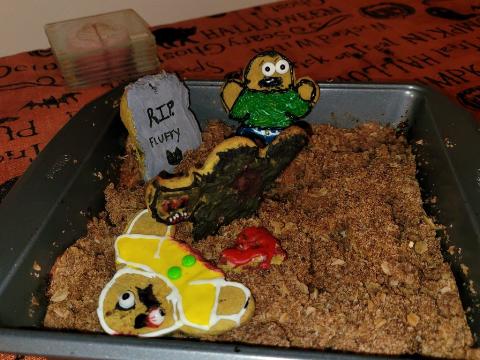 ...also did a spooky dinner for everyone, with random stuff I had in the house last night. Friend's kid liked it.
'Monster' burger with pepper jack teeth, severed fingers (jalapeño chicken sausage w/pepper jack fingernails),
ghost
-pepper chips, & homemade pumpkin pie ice cream shakes (made w/leftover pumpkin purée), topped with whipped cream, chili dark chocolate flakes, & a candy corn.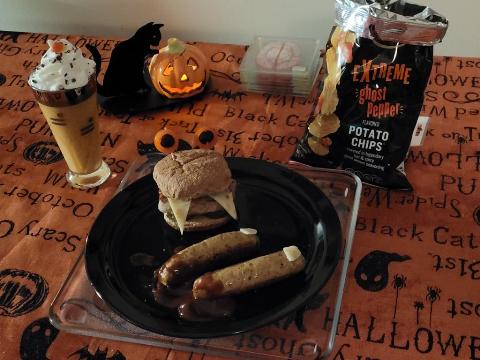 These were all just fun activities that tasted mediocre. I had to sub some margarine for butter in the apple crisp, & it didn't crisp up as nicely. The cookie recipe was a new one I was trying from Allrecipes. The pumpkin flavor didn't really come through the final result, most of the spices, either. It was just cloves I picked up the most. I gave away most of the cookies to people who liked them. I'm not even big on icing/frosting - I just find decorating fun, & people in my life enjoy it.
The pumpkin pie shake came out great, though. Just some vanilla bean ice cream, pumpkin puree, a tsp pumpkin pie spice, a dash of brown sugar, some vanilla unsweetened almond milk, & the aforementioned toppings. I eyeballed all this stuff in terms of measuring, & blended it up in the Vitamix, adjusting til it reached the proper flavor & ultra-thickness.
The dinner was just a whim, mostly for the kid present, but I just made the same for all of us, since I had a bunch of turkey burgers in the freezer to use up. The chicken sausages were mine- I didn't want a burger. I just put it all on 1 plate because it looked funny. And we all got chips & shakes.