Joined

Aug 6, 2007
Messages

5,864
So a couple of my wife's friends just bought a property that is priced three times higher now than in 2019. That's after the price of that property came down by over $100k.
I know a lot of family and friends who bought very recently.
Debt cancelation needs to be part of the equation if we ever want prices to be reasonable again.
If the same exact property(nothing done to make it more productive in any way) is prices 3 times higher than it was three years ago, how can we call it anything other than inflation?
At least with stocks, we can make the case that the company it belongs to may have become more productive.
The following data is before the latest craziness: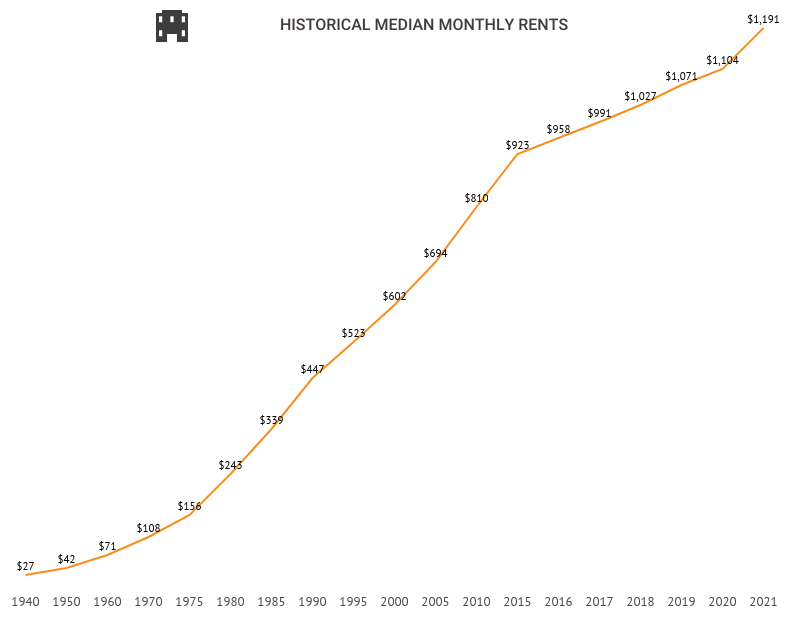 Find average rent by year nationwide, by square foot, and by state, as well as rent-to-income rates and rent inflation by year.

ipropertymanagement.com
What was $27 in 1940 was $1104 in 2020.
If you use an inflation calculator:
Easily calculate how the buying power of the U.S. dollar has changed from 1913 to 2023. Get inflation rates and U.S. inflation news.
www.usinflationcalculator.com
$27 in 1940 was about $500 in 2020, less than half what the rent was.
Considering that rent/mortgage is the overwhelming majority of what a young person pays to live(way over 1/3 or 1/4, unless you bought ages ago), rent/mortgage should be the real measure of inflation, not some arbitrary basket of goods for CPI.
In 1980, the median rent was $240, which once adjusted for inflation, becomes $754. This still indicates more than a 50% increase in CPI adjusted terms by 2020...again before the craziness of the last two years.
Here are the CPI adjusted wages over a similar period:
Graph and download economic data for Employed full time: Median usual weekly real earnings: Wage and salary workers: 16 years and over (LES1252881600Q) from Q1 1979 to Q2 2023 about full-time, salaries, workers, earnings, 16 years +, wages, median, employment, real, and USA.
Even if you are extremely generous, you could maybe see a wage increase of 25%, though you can also see a 10% increase instead.
If someone was making ends meet working 40 hours a week in 1980, to afford the 50% more rent, and generously saying the make 25% more money they'd have to work 48 hours a week now. Remember this is without the latest craziness, and ignoring the dip in wages now. If we take 10% more earnings instead we're looking at 54 hours a week instead.
But let's face it, people have probably been working 60 hour weeks since the 80s already. But now that becomes 70 to 80 hours a week depending on how generous or stingy you are with wages.