Joined

Aug 6, 2007
Messages

5,864
I have been to therapy that used Cognitive Behavior Therapy(CBT), and it has helped tremendously.
I was taught something close to this version of CBT in particular:
A free online workbook designed to teach you the most powerful cognitive behavioral therapy skills for depression, anxiety, and many other psychological problem...

cogbtherapy.com
In particular the following diagram for the model of emotions stuck with me: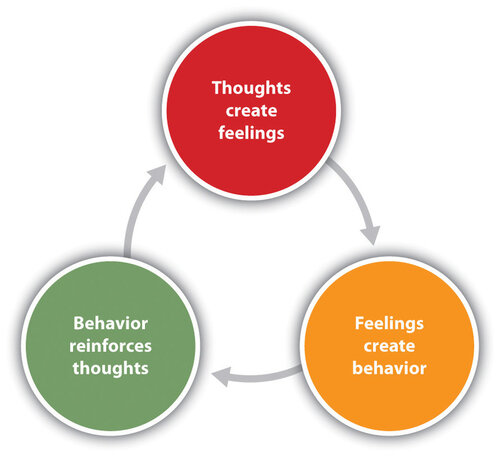 Note in particular the "thoughts create feelings" portion of the model.
Generally speaking, being aware of how thoughts, feelings, and behaviors affect each other are an integral part of all therapies. However, in particular, what has worked best for me, is the part of the model where thoughts create feelings and become aware of that helped me shape my thoughts and it helped significantly.
Here is someone touting this:
Did you know? Our thoughts create our feelings. And when we learn to tap into our thoughts, we gain greater awareness and understanding of our feelings!
laurabuckleycoaching.com
But one thing that ought to be abundantly clear is that one can have feelings with no thoughts attached, and neuroscience is indicating that physiological responses related to feelings actually seem to happen earlier than the thoughts that seem to cause them actually happen. I cannot seem to find the studies right now, and may be I have it wrong. I would love to be corrected.
Here are some people who say that feelings precede thought:
Professor Mark Solms of the University of Cape Town discusses the difference between thinking and feeling, and the role that instinct plays.
www.futurelearn.com
https://www.psychologytoday.com/us/blog/in-spite-yourself/201909/feelings-first-or-second
(Though talking about percentages of brain activity is a Red Flag for me).
And Quora goes back and forth:
Answer (1 of 11): This may seem counterintuitive. Thoughts produce emotions. And emotions produce behavior.. Behavior is then met by reactions of others which modify our thoughts. So it's like a cycle. And that's why we continue to encounter variations of the same experience until our thoughts /...
www.quora.com
What's your take?