Administrator
Staff member
Joined

Dec 23, 2009
Messages

25,215
MBTI Type

INTJ
Enneagram

6w5
Instinctual Variant

sx/sp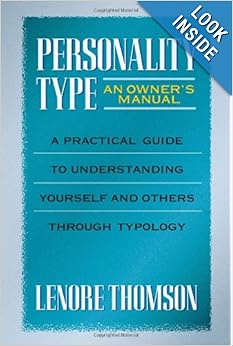 This book, written by Lenore Thomson is one of the more popular ones out there. When I first read it, I have to admit to literally brimming with enthusiasm. There are chapters on the role of the dominant and auxiliary functions, the tertiary functions, type dynamics and the extraverted and introverted attitudes. After this material, the author goes into the profiles for each of the 16 types, which are absolutely outstanding - certainly the best that I have seen. There is a chapter on each dominant function and the two types associated with each are elaborated on in exhausting detail.
The one thing I don't like about the book, and it is a fundamental aspect of the author's material, is the creative license that she takes in describing the role of the cognitive functions that are traditionally considered #5 through #8 in the stack. She talks about right brain alternatives (crow's nest), left brain double agents and describes these things as being integral to our personality. According to her material, these functions come out when we are in situations that the dominant functions can't handle. In describing the function order stack, she actually places those 5th through 8th functions
in the middle
between the dominant/auxiliary and the tertiary/inferior (i.e., as #3 - #6 instead of #5 - #8). I don't know if I believe in any of that really. Of course this stuff is all just a bunch of theory and could be fiction right?
Anyway, because of the richness of the profile descriptions, I give the book 5 stars, but with the caveat that you have to take some of her material, which is her own invention, with a grain of salt.