Providing Feedback to TypologyCentral Forum Leadership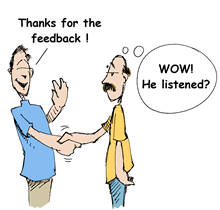 We're always looking for feedback and there are a few ways you can do this.
1. Start a thread in the Feedback Subforum. This is a good way to initiate feedback on something and to stimulate discussion with a broader set of members.
2. Start a thread in the Private Feedback Subforum. The only people who will see your feedback there will be the moderators and administrators (and of course you). It's a way to engage all of the mods/admins in one place all at once.
3. Send a PM to a mod or admin. This is also a way to provide feedback. The only disadvantage is that it only goes to the admins/mods that you directly send the message to. That might be ok depending on what it is you're trying to communicate.