Joined

Jan 17, 2022
Messages

36
MBTI Type
Which type do you think Van Gogh was?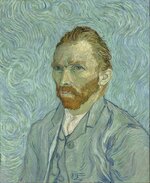 I'll leave this quote from the GiftsCompass website:
"The type theoretically dominant in ego consciousness would be introverted feeling, but introverted intuition or introverted sensation are often dominant when extraverted thinking is lodged in the "unconscious" shadow.
We can see archaic extraverted thinking in Vincent van Gogh, who likely favoured introverted sensation as a lead type. In his articles to his brother Theo, one can hear introverted sensation in his vivid description of nature and the painting he has been working on:
"Yesterday, at sunset, I was on a stony heath where very small, twisted oaks grow, in the background a ruin on the hill, and wheat fields in the valley . . . The sun was pouring its very yellow rays over the bushes and the ground, absolutely a shower of gold." (Letter 636)
He also writes about his health problems, emotional turmoil, and troubled financial situation, which frequently concerned him. In one of those articles, we can hear his resistance to the administrative detail that would enable him to order his finances."
Last edited: