Administrator
Staff member
Joined

Dec 23, 2009
Messages

25,215
MBTI Type

INTJ
Enneagram

6w5
Instinctual Variant

sx/sp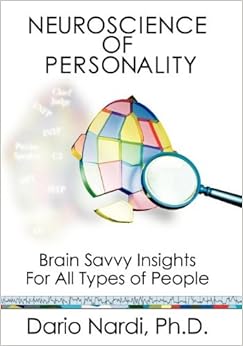 This book is about the results of Dario Nardi's investigation into personality type and and how it relates to activity in the brain. He proposes that people use their brain in fundamentally different ways and that particular types tend to demonstrate stronger activity in certain areas of the brain than others. The concepts are fascinating as is the book. The following is a presentation that he gave at Google on the topic which lays out some of his ideas.
What I really liked was that this represented some pretty fresh thinking and he does a nice job of explaining things. If cognitive functions do really exist than it would seem logical that our brains are wired in certain consistent ways. One of the more interesting things I recall him saying (and I'm not even sure it's in the book) is that certain types as they age, start to look like other types. The INTJ, that prefers Ni>Te>Fi>Se is compared to the ISFP that prefers Fi>Se>Ni>Te. Those two types share the top 4 cognitive functions and as a result, brain activity converges as they grow older. I believe the idea may be that existence of the same function pairs (such as Ni/Se) and the corresponding maturation of their usage as someone gets older, causes those two types to look more similar.
The biggest problem I have with the book is the number of participants in the study, which if I understand it correctly, is 56 individuals. I am no expert on statistics and I guess many medical studies involve small populations like this and present conclusions based on those numbers. Even if what is in the book is true, I don't understand why he didn't involve more students. It just seems like an extremely small population from which to derive conclusions from. That is the only reason I give this 4 stars instead of 5.
Last edited: